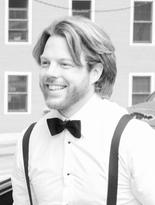 Andrew Marousek is the Office Manager at Elder Care Connection. For as long as he can remember, helping others has been a large part of his life.  Growing up with a father who was a NYPD detective and a mother who was a nurse, they instilled in him an obligation of caring for others.
Throughout Andrew's life, situations arose in which he was needed as a stabilizing force for friends and family.  This wasn't something he had to try to do, this was purely instinctual.  
Andrew went to school in Savannah, GA and studied photography.  He has taken what he learned in photography and adapted it to helping others.  Photography taught him to look at the whole picture, which he has found to be extremely important when dealing with the human condition.
When Karen and Grace approached him to become a part of this business, everything became clear to him.  This was his calling.  What he had done for family and friends, he could do for anyone.  Andrew draws great pride from being able to help someone during their time of need.  
Whether it's helping your family to set up a stable environment for care or just being there to listen in your time of need, he is always available.