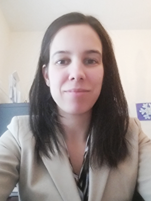 Dora Vignola is the home health aide coordinator at Elder Care Connection.  Her role at the agency has allowed her to fulfill a lifelong passion of helping others.  
She grew up in a loving family, the eldest of six children.  Her siblings and family depended on her daily.  This taught Dora to have a strong sense of responsibility and instilled in her a passion for helping others.  Growing up, she would care for stray animals.  With the help of her aunt, they would nurse them back to health and find them new homes.  
These actions prepared her for what she does now, helping families find just the right caregiver for their loved ones. Dora was also a little rebellious and loved to try new things. This out of the box thinking seems to serve her well when working with families to introduce the idea of a caregiver, when mom and dad think they don't need one.  
Dora has always known that she wanted to help others. Studying psychology in college has helped her have great insight into what families are going through when they have to make a difficult decision regarding how to keep their loved one at home safely.
When Dora came to Elder Care Connection, she knew she could make a difference and began to follow a career that would serve her passion.  She is proud to be a part of the Elder Care Connection family.